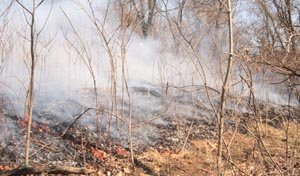 "The uniformly rich soil of the Illinois and Wisconsin prairies produced so close and tall a growth of grasses that no tree could live on it. Had there been no fires, these fine prairies, so marked a feature of the country, would have been covered by the heaviest forest."
- from Aldo Leopold's A Sand County Almanac and Sketches Here and There
Fire has always been a partner with healthy prairies. In dry conditions early in the spring or late in summer and early fall, lightning could strike and set a prairie ablaze. Later, Native Americans and Euro-Americans set prairie fires to help hunt animals and clear the land. Today, prairies are managed and maintained by prescribed burns.

During each burn, non-native plants are removed, allowing prairie plants more nutrients and room to grow. Prairie plants can survive fires since they have deep roots and grow from a point underground. A prescribed burn is a crucial component in prairie restoration.

Burns are conducted early in restoration projects to prepare the land for planting. Prairies are burned at regular intervals to help keep them healthy.