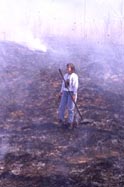 "She thought of how quickly the prairie fires swept through dry grass. Flame licks through the light, thin stems and is gone before the frail ashes can fall."
-from Laura Ingalls Wilder's The Long Winter

Prairie vegetation dies back and decomposes (breaks down), leaving rich organic material on the surface. When the grasses are dry, and fire sweeps across the prairie, this organic fuel burns quickly.

In order to control burning on a restored prairie, workers must take special precautions. They attend special training classes to learn about proper equipment and safety regulations that help control prairie fires.