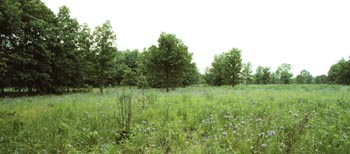 Sand Prairie-Scrub Oak Nature Preserve
This field guide is a list of some of the common prairie plants you can find in Illinois prairies. We have organized them according to their blooming season, spring, summer, or fall.
These plants will help you to understand some of the plants that you may find in the field. We recommend that you also use a printed field guide when you go into the field. This online field guide is intended to give you a start at looking at flowers so that when you go out into a prairie, or meadow, or even when you are driving along the highway, you will have an idea of the different types of plants you may see.
Native Americans and Europeans used the plants they found around the prairie to supplement their diet and treat their illnesses. Modern medicine has not verifed many of the North American prairie plants as useful in curing contemporary illnesses. Understanding plant remedies requires specific research and also an understanding of the people who may have used plant remedies for many generations.
We do not recommend eating these plants or using them to treat or cure anything. Most of the uses have not been tested or studied extensively, so we don't understand the possible side effects of the plants. Instead, we are providing the information as a way to understand how Native Americans and Europeans were using their environment and its resources.