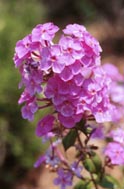 Phlox
(Phlox maculata cv 'Rosalind')
We know the prairie for its plants, animals, and landscape, but the story of the prairie would not be complete without stories about people who live, work, and play on the prairie.

Read "Spring to Summer-A Time to Plant", describing the experiences of volunteers working to restore the prairie.

Read "A Prairie Garden" in which two children and their friends plant their very own prairie garden.

Read "Fall to Winter-The Prairie Sleeps", which is a prairie observer's reflections on the sights and sounds of the grasslands of Illinois.