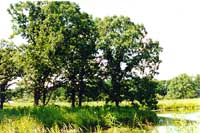 This section describes the history of the Illinois land survey, the methods used by surveyors, and gives some excerpts from surveyors' journals. It also describes how modern ecologists use land survey data to reconstruct past plant communities.
How do we know what plant communities existed in Illinois prior to European settlement?
Some of the best data come from the land survey notes made in the early nineteenth century. Original Public Land Survey records are an important source of information on the character of the vegetation in Illinois prior to European Settlement.
How do scientists use the land survey records?
Researchers use these records to reconstruct native vegetation in many states. Wisconsin, Minnesota, Michigan, and Indiana have 'original vegetation' maps which were created with the data contained in land survey records.
Land survey records also served as the basis for several pre-European vegetation reconstructions in Illinois. They are used to locate prairies and the prairie-forest border in Northeastern Illinois.