| | | |
| --- | --- | --- |
| | | The word 'forest' comes from the Latin 'foris,' which means outdoors or away from civilization. |
Although Illinois is known as the "Prairie State," forests were and are an important component of the States' vegetation.
This Web module covers the period of time shown in the time line below.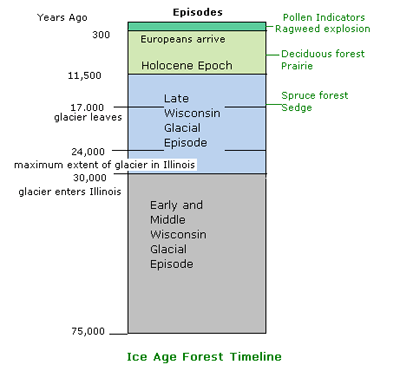 A few of the highlights are:
At the close of the last Ice Age about 12,000 years ago, Illinois was almost completely forested.
Prairie developed on the vast, level plains, but forest and parkland (grassy areas with clumps of trees) remained important in areas with streams, hills, or in areas otherwise protected from fire.
Two hundred years ago larger areas of forest existed in the Shawnee Hills of southern Illinois, in the areas of northwestern Illinois that did not experience glaciers, and in the wedge of land between the Illinois and Mississippi Rivers.
European settlement occurred near and in forests because settlers needed wood to build houses, barns, tools, utensils, and for fuel.
Major forest types in present-day Illinois include: barrens, flatwoods, floodplain, sand, savanna, swamps, and upland forests.