Junior Collector's Day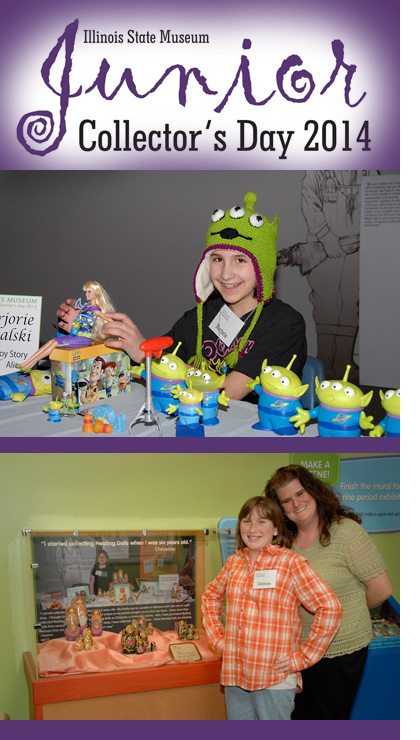 For More Information & Images Call:
Nina Walthall 217.782.0061
www.museum.state.il.us

PRESS RELEASE: Illinois State Museum, Springfield

Does Your Child Have a Collection? Give them the chance to exhibit it at a museum! Register by Tuesday February 4th to participate in the Illinois State Museum's 16th Annual Junior Collector's Day. Children and teens will showcase their personal collections in creative displays and build confidence as they interact with interested visitors. Collections will include items such as rocks and minerals, coins, art, shells, Beatles memorabilia, Legos, and much more! Imagine your child's hard earned selection of treasures as part of the excitement on Junior Collector's Day 2014.

WHEN:
REGISTER BY
Tuesday, Feb 4
EVENT DATE
Saturday, Feb. 8, 1-3 PM

WHAT:
Junior Collector's Day
Ages 8-15
FREE with Registration

WHERE:
Illinois State Museum
502 S. Spring Street
Springfield, IL 62706

Calling all collectors! This program is free, but registration is required by February 4. Visit bit.ly/jcd2014 or contact Nina Walthall at walthall@museum.state.il.us or (217)782-0061. The Museum will provide a table, table cloth, name tag, a sign with your collection name, a program, and direction in creative display and answering visitor questions. Each Junior Collector will also receive a certificate for participation!

The Illinois State Museum inspires discovery and caring about Illinois' cultural and natural resources and heritage. The Museum integrates its original research and diverse collections to advance knowledge and create thought-provoking exhibitions and educational programs and resources. These offerings engage people of all ages in their own discovery and lifelong learning about the natural and cultural heritage of Illinois and its place within the world. The Museum promotes stewardship of this heritage to improve quality of life and ensure a sustainable future.



Tuesday, January 28, 2014

Back to News & Press.


Illinois State Museum
Founded 1877
The Illinois State Museum promotes discovery, learning, and an appreciation of Illinois' natural, cultural, and artistic heritage.
General Information: (217)782-7386
Director's Office: (217)782-7011
Interim Museum Director: Michael Wiant
Press Contact: michael.wiant@illinois.gov