ISM Publications
The Illinois State Museum has an active publishing program that serves a wide audience, from scholars and researchers to the general public. Among our public ations are:
NEW! You can now purchase our publications online.
Nontechnical, popular-science books on natural history, archaeology, and anthropology
Handbooks of collections that provide descriptive accounts of the ISM collections
Scientific, monograph-length reports of Museum-sponsored/related projects, of interest to scholars, students, and researchers
Exhibition catalogs featuring both images and narratives of artwork produced primarily by Illinois artists
General-interest books about the history, decorative arts, and material culture of Illinois and other titles that reflect the scope of our research and collections ranging from botany, zoology, geology, and paleontology to anthropology
Educational posters, brochures, and schedules of upcoming Museum events, activities, and programs
To request a catalog of our publications contact: subscriptions@museum.state.il.us
The Museum also publishes The Living Museum, a free quarterly magazine focusing on current topics in research and collections. If you are interested in subscribing to The Living Museum, please contact: subscriptions@museum.state.il.us
You may also browse the ISM Publications shop.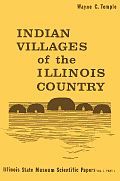 You may download an electronic version of Indian Villages of the Illinois Country, by Wayne C. Temple in PDF format.