Welcome to the Illinois State Museum
We regret that all Illinois State Museum facilities are closed to the public until further notice. In the interim, please take advantage of the educational resources available here. Check back regularly for updates or e-mail dnr.pio@illinois.gov. Thank you for your patience.

The Illinois State Museum inspires discovery and caring about Illinois' cultural and natural resources and heritage. The Museum's extensive collections and research activities provide the foundation for exhibitions and public programs that tell the story of the land, life, people, and art of Illinois. The Illinois State Museum is headquartered in Springfield with branch facilities throughout the state. Use the links to the side to find information about current and upcoming exhibits, public programs, and other events at all of the Museum's sites. Admission is FREE at all Illinois State Museum sites.
Come to the Mary Ann MacLean Play Museum!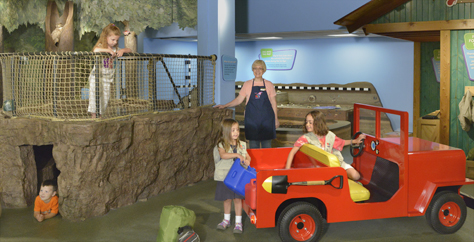 The Play Museum is a free children's area at the Illinois State Museum-Springfield. Load a jeep; crawl through a cave; dig for fossils; put together a baby mastodont puzzle; frame art; explore collections of fossils, insects, artifacts; and toys; and play museum! The Play Museum is designed for children ages 3-10 and their families. Hours are Monday-Saturday (9:30 a.m.-4:00 p.m.) and Sunday (1:00 to 5:00 p.m.).
Play Museum Teacher Kits
ANNOUNCING: A new, exciting resource for teachers from the Illinois State Museum!
Thanks to a grant from the Susan Cook House Educational Trust, teachers of grades preK-4 may borrow a Play Museum Outreach Kit free of charge. The easy-to-use, light weight kits were created to help educators and their students get the most out of a field trip visit to the Mary Ann MacLean Play Museum.
A Study of the Birds of Sangamon County, Illinois, 1970-2010, by Museum zoologist H. David Bohlen is available as a free, downloadable pdf. This unprecedented 40-year study documents dramatic changes in the presence and abundance of 359 bird species in Sangamon County, Illinois and highlights the impacts of environmental change and habitat destruction by humans.