Two New Exhibits Open at the Illinois State Museum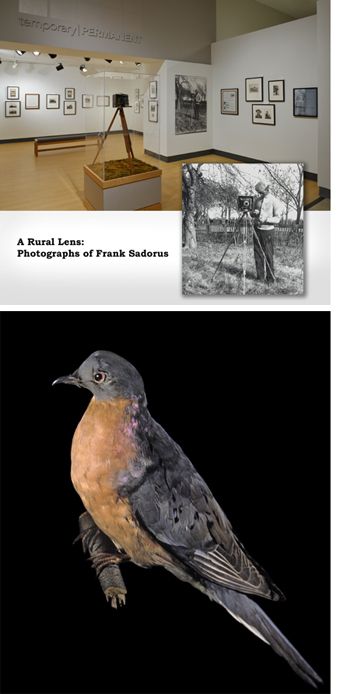 ART+SCIENCE
Two new exhibits are opening at the Illinois State Museum. Distress Calls: Birds of Illinois will be opening in the Hot Science Gallery in the Changes exhibition and A Rural Lens: Photographs of Frank Sadorus will be displayed in the newly unveiled temporary|PERMANENT gallery on the second floor. The Illinois State Museum offers exhibition experiences for the art appreciator and science lover.

June 21-December 31
Distress Calls: Birds of Illinois
Hot Science Gallery
Changes exhibiton-1st Floor

June 21-October 5
A Rural Lens: Photographs of Frank Sadorus
temporary/PERMANENT gallery
2nd Floor

Distress Calls: Birds of Illinois chronicles the plight of the Passenger Pigeon and the lessons learned from its extinction as well as highlights recently released research by ISM zoologist H. David Bohlen. David's unprecedented forty-year study, A Study of the Birds of Sangamon County, Illinois, 1970-2010, documents the dramatic changes in the presence and populations of bird species in Sangamon County, which have been broken down and displayed for this exhibit. His two-part compendium explores environmental change, habitat destruction, and degradation by humans as well as outlines methods, conclusions, and recommendations. It also offers a vast compilation of the county's bird species, many of which have been beautifully photographed and featured on the walls of our Hot Science Gallery.

The release of this study is timely as we are also commemorating the Year of the Passenger Pigeon – the 100th anniversary of the death of the last of the species, Martha, at the Cincinnati Zoo. Passenger pigeons once dominated the United States, with numbers in the billions, and flocks large enough to block out the sun.

"I have seen flocks streaming south in the fall so large that they were flowing over from horizon to horizon in an almost continuous stream all day long, at the rate of forty or fifty miles an hour, like a mighty river in the sky, widening, contracting, descending like falls and cataracts, and rising suddenly here and there in huge ragged masses like high-plashing spray." John Muir "The Story of my Boyhood and Youth" 1913.

Though their numbers were unparalleled, hunting, trapping, and habitat disturbance managed to drive this once ample and rich food source into an unthinkable extinction. Distress Calls: Birds of Illinois causes us to think about the lessons learned from this loss and to shift our focus to environmental preservation. We are reminded of the very real consequences of taking our natural world for granted.

Tweet what you learn to #distresscalls, #hotscience, or #birdsofillinois!
Follow us @ILStateMuseum

A Rural Lens: Photographs of Frank Sadorus
Self-taught photographer Frank Sadorus (1880-1934) captured on glass plate negatives the seemingly idyllic existence of a central Illinois farm family. His photography came to an end with the sale of the family farm and his subsequent commitment to an asylum in 1917. With the growth of industrialization, another type of life slips away. Capture a glimpse of Illinois' past with this selection of Sadorus images from the ISM collection.

This exhibit will be featured in the newly renovated, 2nd floor temporary|PERMANENT Gallery. The space boasts wood floors and a sleek, contemporary finish – beautifully showcasing artwork from the ISM's dynamic and continuously expanding permanent collection.

The Illinois State Museum inspires discovery and caring about Illinois' cultural and natural resources and heritage. The Museum integrates its original research and diverse collections to advance knowledge and create thought-provoking exhibitions and educational programs and resources. These offerings engage people of all ages in their own discovery and lifelong learning about the natural and cultural heritage of Illinois and its place within the world. The Museum promotes stewardship of this heritage to improve quality of life and ensure a sustainable future.

For More Information on Frank Sadorus visit: http://www.museum.state.il.us/ismdepts/art/sadorus/

For Bohlen's Study of the Birds of Sangamon County visit: http://www.museum.state.il.us/publications/

For More Information & Images:
Jennifer Snopko 217-782-5949
jsnopko@museum.state.il.us



Friday, June 20, 2014

Back to News & Press.


Illinois State Museum
Founded 1877
The Illinois State Museum promotes discovery, learning, and an appreciation of Illinois' natural, cultural, and artistic heritage.
General Information: (217)782-7386
Director's Office: (217)782-7011
Interim Museum Director: Michael Wiant
Press Contact: michael.wiant@illinois.gov