Luminous Ground: Artists With Histories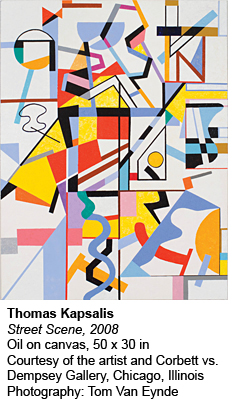 Illinois State Museum Exhibition Opens May 20, 2012

SPRINGFIELD, IL The Illinois State Museum in Springfield will present a new exhibition, Luminous Ground: Artists With Histories from May 20, 2012 through January 6, 2013. Luminous Ground refers to the collective insight of eleven Illinois artists who, through the decades, have created bodies of work that reflect their ever-present and vital creativity. Luminous Ground: Artists With Histories exhibition artists were chosen as exemplars of older individuals—these artists range from 78 to over 90 years old—who have remained vital and productive into advanced age. The exhibition was cited in the top five ("Time Out Chicago") and ten ("New City") shows presented in Chicago in 2011 when it debuted at the Illinois State Museum Chicago Gallery.

Luminous Ground: Artists With Histories offers a kaleidoscopic panorama of these diverse Illinois artists who share three important similarities: 1) the creation of life-long bodies of work of the highest caliber; 2) the influencing of multiple artists across generations, not only by their art, but through teaching and community involvement; 3) 50 to 60-plus year careers. Luminous Ground explores the sources of inspiration for these artists who, by gifts of longevity and introspection, have created enlightened bodies of work that are radiant, insightful, and life-affirming. While acknowledging the difficulties of old age, the exhibition suggests that the pursuit and exploration of creativity might be the closest that mortals can come to partaking of the "Fountain of Youth."

The artists and media include: Ralph Arnold (1924-2006), constructions; Morris Barazani (1925), abstract painting; Gerda Meyer Bernstein (1931), socially conscious installation; Fred Berger (1923-2006), figurative paintings, sculpture, and works on paper; William Frederick (1922), silversmith; Theodore Halkin (1924), painting and sculpture; Thomas Kapsalis (1925), abstract painting and sculpture; Vera Klement (1929), painting; Ellen Lanyon (1926), printmaking and painting; Elizabeth Ruprecht (1932), painting; Leopold Segedin (1927), figurative painting.

The Illinois State Museum promotes discovery, learning, and an appreciation of Illinois' natural, cultural, and artistic heritage. The Museum's extensive collections and research activities provide the foundation for exhibitions and public programs that tell the story of the land, life, people, and art of Illinois. The Illinois State Museum is located at 502 S. Spring Street (the corner of Spring and Edwards Streets) in Springfield, and is open 8:30 a.m. to 5:00 p.m. Monday through Saturday, noon to 5:00 p.m. Sunday. Admission is free. Parking is available nearby, and the building is ADA accessible.

For more information, please contact Kent Smith, Director for Art, at ksmith@museum.state.il.us or (217) 782-7440.


Images available at:

https://intra.museum.state.il.us/pub/images/Luminous_Ground_low_res/



Tuesday, May 08, 2012

Back to News & Press.


Illinois State Museum
Founded 1877
The Illinois State Museum promotes discovery, learning, and an appreciation of Illinois' natural, cultural, and artistic heritage.
General Information: (217)782-7386
Director's Office: (217)782-7011
Interim Museum Director: Michael Wiant
Press Contact: michael.wiant@illinois.gov