On and Of Paper: Selections from the Illinois State Museum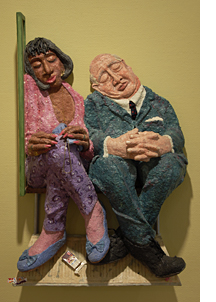 Exhibition Opens October 21 at Illinois State Museum

Associated programs Oct. 21, Oct. 22, and Nov. 12

SPRINGFIELD, IL— The Illinois State Museum in Springfield will present a new exhibition, On & Of Paper: Selections from the Illinois State Museum, from October 21, 2011 through April 29, 2012. The exhibition includes more than 100 works by 90 artists using paper as a creative contributing element or as a foundation for their chosen technique. Jennifer Jaskowiak from the Illinois State Museum's Lockport Gallery curated the exhibition which includes prints, photographs, paintings, and multi-media constructions. The public is invited to the opening reception for On and Of Paper on Friday, October 21, 5:30 to 7:30 p.m., as part of the PARTNERS ON PAPER citywide progressive reception. On October 22, the Museum will present a gallery "Walk and Talk" with Jennifer Jaskowiak from noon – 1:00 p.m. and a paper cutting demonstration by artist Richard Shipps from 1:00 – 2:00 p.m.

Paper has been used for centuries as a versatile, readily available, and relatively affordable material for the artist. Folded, molded, painted, torn, glued, or otherwise altered, it becomes an element in the creation of a finished piece. Its texture, weave, and color contribute significantly to the final image. It also serves as a support material. By offering a surface on which to sketch and test an image it holds a critical and fundamental role in the creative process.

The exhibition reflects the many artistic uses of paper by historical and contemporary artists as reflected in works from the Illinois State Museum collection. Artists Include: Gertrude Abercrombie, Nicholas Africano, Ivan Albright, Harold Allen, Emil Armin, Ralph Arnold, Don Baum, Vera Berdich, Roger Brown, Melissa Jay Craig, Barbara Crane, Charles W. Dalgreen, Henry Darger, Julie de Diego, David Driesbach, to name a few. Contemporary artists who explore paper as a 3-dimensional medium are: Michele Feder-Nadoff, Nancy Steinmeyer, Eleanor Spiess-Ferris, Buzz Spector, and others.

On & Of Paper is part of PARTNERS ON PAPER a collaborative partnership among the five largest art organizations in Springfield: the Illinois State Museum, University of Illinois Springfield Visual Arts Gallery, Prairie Art Alliance, Springfield Art Association, and Robert Morris Gallery. These organizations united to present five art exhibitions and a slate of workshops, lectures and demonstrations celebrating the many manifestations of paper in art. For schedule information see the Museum's website at: http://www. museum.state.il.us or visit us on Facebook at http://www.facebook.partnersonpaper.com.

The Illinois State Museum is hosting three free events in October and November as part of this celebration:

October 22, noon – 1:00 p.m., Gallery "Walk and Talk", presented by Jennifer Jaskowiak, Curator of Art at the ISM Lockport Gallery and curator of the exhibition On & Of Paper The talk will take place in the exhibition galleries and emphasize the contemporary and historical use of paper and how the exhibition was organized.

October 22, 1:00 – 2:00 p.m., Richard Shipps will present a demonstration of his paper cutting techniques and discuss his art. The demonstration will be in the lower level of the Museum. A solo exhibition of Shipps amazing work is on display at Robert Morris Gallery as part of the Partners on Paper collaboration.

November 12, 10:00 a.m. – 4:00 p.m., PAPERPALOOZA! Super Saturday. This event, designed for children ages 4 – 8 will feature hands–on art activities for children including origami and papermaking.

The Illinois State Museum promotes discovery, learning, and an appreciation of Illinois' natural, cultural, and artistic heritage. The Museum's extensive collections and research activities provide the foundation for exhibitions and public programs that tell the story of the land, life, people, and art of Illinois. The Illinois State Museum is located at 502 S. Spring Street (the corner of Spring and Edwards Streets) in Springfield, and is open 8:30 a.m. to 5:00 p.m. Monday through Saturday, noon to 5:00 p.m. Sunday. Admission is free. Parking is available nearby, and the building is ADA accessible.



Wednesday, October 05, 2011

Back to News & Press.


Illinois State Museum
Founded 1877
The Illinois State Museum promotes discovery, learning, and an appreciation of Illinois' natural, cultural, and artistic heritage.
General Information: (217)782-7386
Director's Office: (217)782-7011
Interim Museum Director: Michael Wiant
Press Contact: michael.wiant@illinois.gov