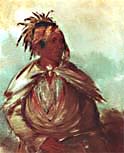 Pah-me-cow-ee-tah, or Man Who Tracks, a Peoria Illinois chief. (watercolor by George Catlin, 1830)
enlarge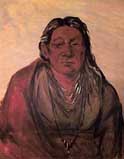 Wah-pe-seh-see, a Kaskaskia Illinois woman. (watercolor by George Catlin, 1830)
enlarge
Among the Illinois the only way of acquiring public esteem and regard is . . . to gain the reputation of a skillful hunter, and, still further, of a good warrior; it is chiefly in this latter that they make their merit consist, and it is this which they call being truly a man. (Sébastien Rale, 1723)

In Illinois society, a person's social status was determined by how others thought of them. A man could elevate his status level by becoming a good hunter and, in that way, providing his family with ample supplies of meat and furs. A man could also achieve status as a successful warrior, especially if he killed an enemy or captured a slave. The tribe celebrated the achievements of hunters and warriors with public rituals, including feasts and special ceremonies.
Women usually achieved status in the realm of women's activities, not in connection with hunting, warfare, or other activities in which leadership roles were traditionally reserved for men. A woman could elevate her status by bearing and raising children, by harvesting bountiful crops of maize and other cultivated plants, and by building and maintaining a comfortable home. Among women, special status was accorded to those individuals who became leaders of the women in their particular age group.
Unlike the political and economic spheres of life, in which a person's status depended upon their sex, males and females had equal access to power in the supernatural world. At the age of adolescence, for example, both girls and boys went on vision quests. When on such a quest, the adolescent would fast alone in the wilderness for up to seven days in hopes of being visited by a supernatural spirit that would serve as their personal manitou. Also, the powerful status of shaman was conferred upon any man or woman whose manitou gave them special knowledge of medicines and healing practices.