Ornaments

They wear collars and earrings made of little stones, which they cut like precious stones; some are blue, some red, and some white as alabaster. (Sébastien Rale, 1723)

Kee-mo-ra-nia-a, or No English, a Peoria man. (painting by George Catlin, 1830) enlarge
Illinois men and women adorned themselves with ornaments and colored garters. Traditional ornaments included carved pendants made of Catlinite, a soft red stone, and gorgets and bead necklaces made of white shell. When French trade goods became available, the traditional ornaments made by the Illinois were supplemented with glass beads, brass Jesuit rings, brass tinkling cones, silver armbands, and silver crosses.
Men wore headresses made of multicolored feathers. Men also wore long necklaces made of woven bison fur and decorated with feathers, brass cones, deer-hair tassels, and porcupine quills. These were not of the type worn by Plains Indians with long feathered trails, but instead formed "garlands and crowns" of feathers placed on top of the head. Men also wore headbands attached to long pendants decorated with feathers, hair, and porcupine quills.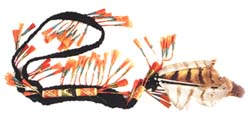 Illinois quilled necklace (reproduction).