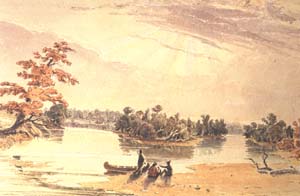 Mississippi River 70 miles above St. Louis - Looking north. (watercolor by Seth Eastman, 1846-1848) Minnesota Historical Society, St. Paul.
We have seen nothing like this river that we enter [the Illinois River], as regards its fertility of soil, its prairies and woods; its cattle [bison], elk, deer, wildcats, bustards, swans, ducks, parroquets [Carolina parakeet], and even beaver. There are many small lakes and rivers. That on which we sailed is wide, deep, and still, for 65 leagues. (Jacques Marquette, 1674)

Illinois is a place where the waters meet. Four of North America's most important streams--the Mississippi, Missouri, Ohio, and Wabash rivers--flow into one another along or near the state's boundaries. The Mississippi River, which has the largest drainage area of any stream on the continent (3.2 million km2), defines Illinois' western border. The Missouri River joins the Mississippi north of St. Louis, flowing into it from the west. The Ohio and Wabash rivers define Illinois' southern and southeastern borders; the Wabash enters the Ohio near Shawneetown and the Ohio enters the Mississippi near Cairo. Lake Michigan, which drains naturally into the St. Lawrence River system, borders Illinois to the northeast. A number of large streams drain the interior of the state, including the Rock, Fox, Kankakee, Spoon, Sangamon, Illinois, Embarras, Kaskaskia, Little Wabash, and Big Muddy rivers. The largest of these streams, the Illinois River, was originally separated from the Lake Michigan drainage basin by a short portage southwest of Chicago.
The historical importance of Illinois is related to its special location near large bodies of water. The state is at the hub of a vast network of inland waterways, a network that provided easy access to the far reaches of eastern North America via canoe and other small water craft.