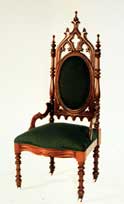 Download a .pdf for a hardcopy identifying design elements (html version) of this piece.

American Gothic style used decorations inspired by Gothic architecture and furniture of the twelfth to fourteenth century in England and other parts of Europe. These decorations still have the same names they had in the twelfth century, when they decorated church walls and windows.

How is the decoration on this chair similar to some church decoration you may have seen?