Pierre Menard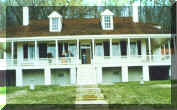 Pierre Menard was born near Montreal, Canada, in 1766. At the age of fifteen, he joined a fur-trading expedition into the Illinois country. By age 30, he was the owner of his own trading business in Kaskaskia. Menard was married twice and fathered twelve children. He built his large house in 1800 - 1802 near Fort Kaskaskia.
The Lewis and Clark journals did not specifically mention Pierre Menard. He was an important businessman in Kaskaskia, and may have entertained the men at his home, or helped them with supplies.
Menard became lieutenant governor of the new state of Illinois in 1818.