Nicholas Jarrot
Nicholas Jarrot helped Lewis and Clark. He served as an interpreter for Lewis when he asked the Spanish Lieutenant Governor in St. Louis for permission to travel into Spanish Territory. He owned the land along the Wood River where the Corps of Discovery camped during the winter. As a storeowner, he also may have sold gear or supplies to Lewis for the journey.
Jarrot was born in 1764 in Val St. Eloy, near Vesoul, France near the Swiss border. In May 1791 he sailed from France to Baltimore, Maryland. He went on to New Orleans in 1793 and was first recorded in Cahokia in 1794. The next year he married Marie Louise Barbeau of Prairie du Rocher. She died while giving birth to their daughter in 1796 or 1797. The next year he married Julie Vital Beauvais of Kaskaskia. They had six children.
Jarrot was a prominent citizen of Cahokia. He worked as a trader with Native Americans, as a retailer and mill owner, and a land speculator. He also traded commodities produced in Cahokia and the east for furs with Native Americans in Wisconsin at Prairie du Chien, a major trading crossroads.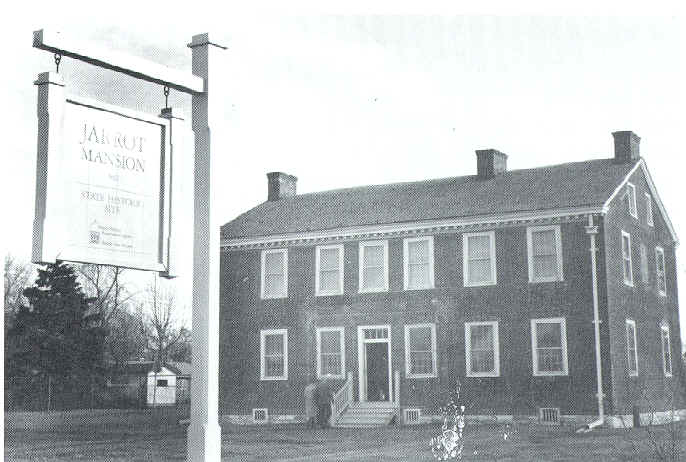 In 1799, Jarrot purchased the land for his mansion, which was constructed from 1806 to 1807. By his death in 1820, he had acquired thousands of acres of land in St. Clair, Madison, and Monroe counties. These lands were often bought from heads of families who had received 400 acres each under a 1790 law. He also purchased land from military rights granted to veterans from 1790. By 1800 he was said to own 25,000 acres. The Illinois Public Land Sales database shows that he registered approximately 8,000 acres when the land office in the area opened in 1814. Mounds at the Cahokia Site, including Monk's Mound, were on his property.
For a more detailed biography of Nicholas Jarrot and a look at his house and Cahokia, read Dr. Erin Bishop's House Report, 1997 (pdf format).