The Illinois Country Experience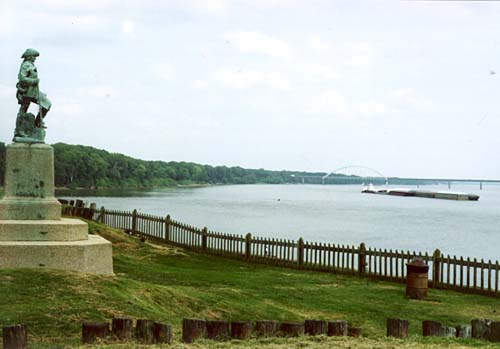 Lewis and Clark entered the Illinois County by sailing down the Ohio River to the mouth of the Mississippi then up that river to Cahokia. They arrived at Fort Massac on November 11, 1803. They stayed in the Illinois Country until they set off on their epic voyage up the Missouri River on May 14, 1804.
Lewis and Clark used those six months to recruit men, stock up on supplies, and prepare mentally and physically for the journey west. They were entertained at the homes of leading citizens in the towns of Cahokia, Kaskaskia, St. Louis, and other towns and villages in the area. They purchased goods at local merchants trading posts and stores. The local citizens near Fort DuBois brought them food and equipment to help them prepare for the trip.
This section of the Lewis and Clark in the Illinois Country introduces some of those people and places, and describes some of the preparations they made.