Public Events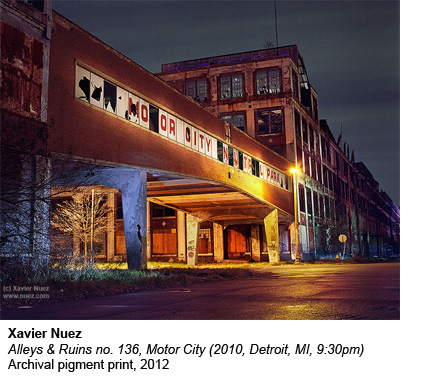 Xavier Nuez: Artist Talk
Location: ISM Chicago Gallery, Chicago
Date: Thursday, November 01, 2012, 12:00 PM - 1:00 PM



The ISM Chicago Gallery presents a special program in conjunction with the Fragile Relations: Art, Nature and Environment exhibition.


Please join us for an artist talk with Xavier Nuez on Thursday, November 1, 2012 at noon. Xavier will discuss work from his Alleys & Ruins Series and his Glam Bugs Series.

Long after dark, Xavier ventures into bleak urban settings, seeking out their elusive splendor. With the city humming in the background, he finds inspiration, peace and refuge where none should exist.

Nuez's determined and intense outings often lead to journeys into dangerous neighborhoods, at times resulting in trouble. He's run from street gangs, been accosted by crazed drug addicts, and have had guns pointed at him. If the police see him lurking in a dark alley, he is often questioned and searched.

With a family history of homelessness, Nuez developed a need to create monuments out of these shunned spaces. Although positive, life-affirming perceptions are not usually associated with acute urban blight, he feels compelled to dignify what has been rejected.

For additional information contact Jane Stevens at jstevens@museum.state.il.us or 312-814-5318. For more events at ISM Chicago Gallery.