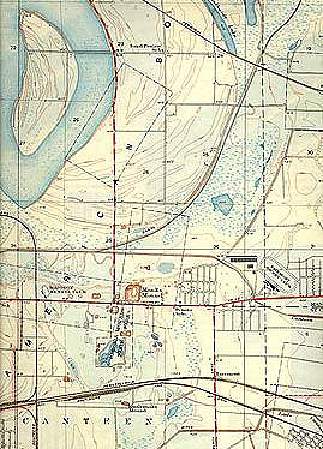 Topographic map of Cahokia region, 1935.
To understand how a past people utlized nearby natural resources, the archaeologist must have a detailed picture not of the present environment, but of the past environments around which people structured their activities. Laying drainage tiles and ditch digging have drained land once too wet to be farmed; artificial levees now control most flooding; locks, dams, and artificial levees have altered the height of river flow; roads, towns, and factories have spread out across the bottomland. Combined, the results of these activities are effectively blocking our view of the pre-settlement landscape. This is a situation archaeologists often face.

Nevertheless, careful examination of USGS topographic maps often provides the archaeologist and geologist with a general understanding of a site's natural landscape. Knowing the location of drier ground, slope, proximity to streams and other water bodies, for example, can be critical to designing both site survey and sampling methods. Modern topographic maps also provide information on how contemporary activities have modified the natural topography and drainage patterns. Also, an appreciation of the modern landscape revealed on topographic maps helps the geologists define landforms whose genesis can be tested by fieldwork (e.g., examination of soils, stratigraphic exposures, and sediment coring).