English paper piecing is often used in the making of hexagon, diamond, baby-block, and star patterns. Each piece in the quilt is pinned to its own paper pattern piece. The paper serves as a guide for sewing and a support for the pieces.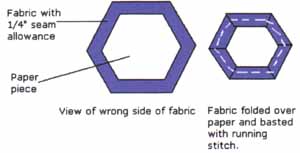 To paper piece a hexagon pattern, a paper hexagon is placed on the wrong side of a fabric hexagon and held with a pin. The fabric has been cut 1/4 inch larger than the paper hexagon all the way around. The extra fabric is for a seam allowance, which is turned down over the edge of the paper to the wrong side and basted in place. This process is repeated for every piece that will be in the quilt.
The next step is to sew the pieces together. The edges of two pieces are lined up with their front sides together and whipstitched (both edges caught alternately with the needle).