State Symbol: State Slogan — "Land of Lincoln"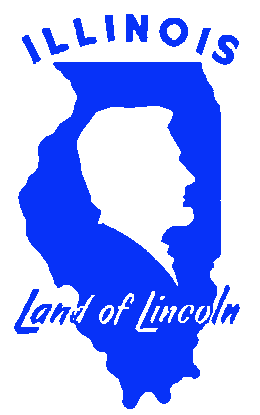 Abraham Lincoln, the sixteenth president of the United States, is recognized for his noble vision, statesmanship, humanity, and political skill. He is one of the country's most enduring symbols of democracy. The slogan "Land of Lincoln" certainly describes Illinois well. Abraham Lincoln moved to Macon County, Illinois from Indiana in 1830 when he was 21 years old. He lived in Illinois until he became President in 1861. In addition to serving as President, Lincoln represented Illinois in the U.S. House of Representatives for one term (1847-1849). He was a member of the Illinois Legislature from 1834 to 1841 (four terms).
Lincoln's Springfield, Illinois home is a National Historic Site administered by the National Park Service. The Lincoln Tomb in Oak Ridge Cemetery, Springfield, is a State Historic Site. New Salem, the village where Lincoln lived prior to moving to Springfield, is in nearby Petersburg.
References:
https://www.nps.gov/liho/ Lincoln Home Site https://showcase.netins.net/web/creative/lincoln/sites/tomb.htm Lincoln Tomb Site https://www.lincolnsnewsalem.com/ New Salem Site https://showcase.netins.net/web/creative/lincoln/sites/law.htm Lincoln-Herndon Law Offices and links to other Lincoln sites https://www.ipl.org/ref/POTUS/alincoln.html links and facts about Lincoln. The Abraham Lincoln Presidential Library and Museum is located in Springfield.