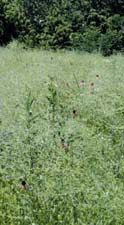 If you are collecting in the wild, you must obtain permission before collecting on private property. You may not collect in national or state parks, nature preserves, arboretums, or botanic gardens.

You'll need to scout out the location of plants while they are flowering. This will make it easier to locate the plants and their seeds later.

You must pay careful attention to avoid endangered, protected, or threatened species. Look at state sources on the Internet to find out which plants in your area are on that list.

When you are collecting in the wild, only gather one-fourth of the seeds. If collecting from commonly found plants, you can take half of the seeds. Even when collecting from seed plants, leave some seeds to grow new plants in that area. This is important to maintain the diversity of plants in that area.