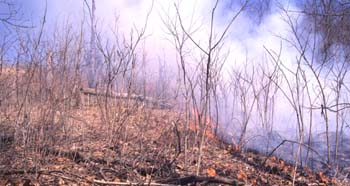 Prairies need fire.
"Presently a strange light gleams on the blackened sky! What should it be? Not the lightning, for it rose instead of falling and hung longer on the sight than the electric flash. But it is gone! - now again it comes, stronger and looks as if the bright, fiery sun had lost his place, and without any precursor were rushing up the southern sky. Again it almost disappears; but the faint tinge is soon increased and a broad glare bursts up which overwhelms that widowed heart. The dreadful truth pierces her very heart, and makes her whole frame tremble. The prairie is on fire! Oh God!"
-from Eliza W. Farmham's Life in the Prairie Land
Fire discourages non-native plants, trees, and shrubs from growing on the prairie. Although prairie fires frightened settlers, the fire renewed the land. Without it, prairies in Illinois would slowly turn into forests, with only patches of prairie remaining. Fire is an important element of the prairie.