Slightly warmer and drier conditions favored the expansion
of prairie on the flat upland of the state. Illinois' prairies consisted of a variety of plants such as big bluestem (Andropogon gerardii), Indian grass (Sorghastrum nutana), prairie dropseed (Sporobolus heterolepis, switch grass (Panicum virgatum), and little bluestem (Andropogon scoparius) and contained may characteristic prairie plants such as leadplant (Amorpha canescens), compass plant (Silphium laciniatum), and prairie dock (Silphium terebinthinaceum). Forests dominated the landscape along streams and rivers and in the more rugged areas of the northern and southern parts of the state.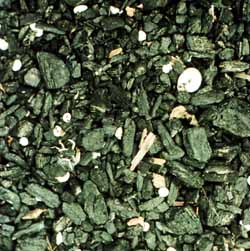 Close-up of wood charcoal from a 8,500 year old campfire. Partially burned bits of plant material such as wood, seeds, and nutshell provide evidence of past environments and the types of plants used by people.