Journals of early explorers and settlers described the character of the land and plant communities that existed before European settlement. Journal entries like those of the French explorer Sieur Deliette (1687), for example, provide some of the earliest descriptions of the forest communities that existed along the Illinois River:
...And on the other side valleys spreading half a league before reaching the hills, which have no trees but walnut and oaks; and behind these, prairies like those I have just spoken of ...[along the river] you find...walnuts, ash, whitewood, Norway maple, cottonwood, a few maples, and grass, taller in places than a man....marshes, which in autumn and spring are full of bustards, swans, ducks, cranes, and teals,....[and] hills covered with wood,...from the edge of which are seen prairies of extraordinary extent.
Settlers frequently commented on the size of the trees in the undisturbed forests they found, usually along rivers. Photographs taken near the Wabash River in the late 1800s show the huge trees described in so many of the pioneers' journals as being of "prodigious height and girth."

The early settlers not only recorded the presence of various plant communities, but also often discussed fire, its frequency, and its effect on the communities. These notes add to our understanding of the pre-European landscape in Illinois.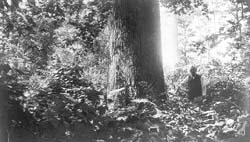 Elm with 18' ground circumference.
Near Olney, Illinois
Ridgway photograph collection,
Illinois State museum collection
(click on image to enlarge)