Traditional Appliqué Technique
On a piece of light cardboard, the quilter draws an appliqué motif full size and cuts it out with scissors. The quilter places the cardboard motif onto fabric and traces around it carefully with a pencil.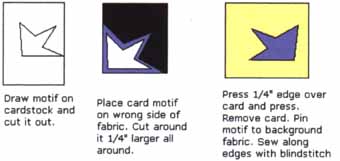 The next step is to cut out the fabric motif with one-quarter inch extra on the edges for a seam allowance. The extra quarter-inch seam allowance is folded under on all sides and is finger-pressed to stay folded.
The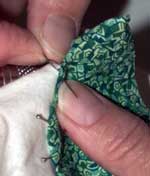 cardboard is removed. The quilter pins the motif onto the background fabric in the right place according to the design.
The quilter threads the needle with the same color thread as the motif and sews around the edges of the motif catching the background fabric with tiny, invisible stitches.