Public Events -- Illinois State Museum, Springfield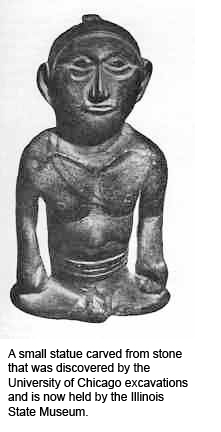 Paul Mickey Science Series: Recent Investigations at Kincaid Mounds—2003 to 2013
Location: ISM Research & Collections Center, Springfield
Date: Wednesday, June 11, 2014, 7:00 PM - 8:30 PM
Presented by Dr. Brian Butler (Past Director, Center for Archaeological Investigations/Emeritus Adjunct Professor of Anthropology, Southern Illinois University Carbondale)
Kincaid is the largest Mississippian mound center in the Ohio Valley. This presentation will summarize the recent SIUC investigations at the site that began in 2003. Kincaid initially gained archaeological prominence through the efforts of the University of Chicago whose field program worked at the site from 1934 to 1944. Subsequently the site received little attention until the late 1960s when SIU professor Jon Muller initiated a program of site survey and test excavations to document Kincaid's supporting settlements in the Black Bottom. No significant work was undertaken at Kincaid at that time, and it was not until the new century that another generation of SIU archaeologists returned to the site. A key aspect of this most recent work has been the completion of magnetic gradient survey of all available portions of the site, a survey that has greatly expanded the size of the site, verified new mounds, refined the chronology, and greatly increased our knowledge of the site, especially for the period following A.D. 1200.
One of our Paul Mickey Science Series
Discover Illinois' rich prehistoric and historic past by attending an ISM Paul Mickey Science Series Program. A different speaker and topic are featured each month. For more information on upcoming topics and speakers, please contact Nina Walthall at (217) 782-0061 or 217-785-0037.
Usually held the second Wednesday of Each Month
7:00 to 8:30 PM
Held at the ISM Research & Collections Center, 1011 East Ash Street (enter the building from 10 ½ Street between Ash & Laurel Streets), Springfield, Illinois

Free Admission
For more events at ISM Research & Collections Center.