Public Events -- Illinois State Museum, Springfield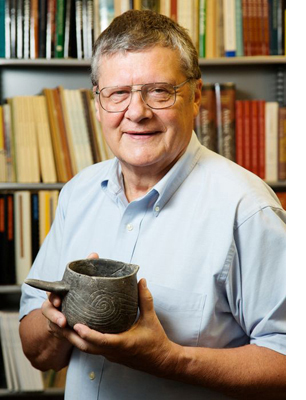 Paul Mickey Science Series: Purging for Purity: Black Drink Ceremonialism at 12th Century Cahokia
Location: ISM Research & Collections Center, Springfield
Date: Wednesday, May 14, 2014, 7:00 PM - 8:30 PM
Presented by Dr. Thomas E. Emerson, Illinois State Archaeological Survey
Black Drink is one of many caffeine-containing beverages consumed by people around the world. Made from the parched leaves and stems of the yaupon holly, it was drunk in formal and ceremonial contexts by native societies across the southeastern United States. Called Black Drink (or cassina) by Europeans because of its dark color, many native societies called it "white drink" for its purifying role. Ritual consumption of cassina often induced bouts of vomiting for purity. While cassina consumption was recorded as early as the 1500s, the time depth of its use was unknown. Its presence at the large 11th to 14th century Cahokia site near St. Louis was suspected but unproven. Recent residue analysis of ceramic beakers from Cahokia has demonstrated that cassina was consumed as early as A.D. 1050 in the central Mississippi River Valley, several hundred miles beyond the native range of the yaupon holly. Black Drink consumption now appears to be have been part of the complex network of exchange and religious rituals at Cahokia that share many characteristics with historic practices recorded by natives of the Eastern Woodlands.
One of our Paul Mickey Science Series
Discover Illinois' rich prehistoric and historic past by attending an ISM Paul Mickey Science Series Program. A different speaker and topic are featured each month. For more information on upcoming topics and speakers, please contact Nina Walthall at (217) 782-0061 or 217-785-0037.
Usually held the second Wednesday of Each Month
7:00 to 8:30 PM
Held at the ISM Research & Collections Center, 1011 East Ash Street (enter the building from 10 ½ Street between Ash & Laurel Streets), Springfield, Illinois

Free Admission
For more events at ISM Research & Collections Center.