Public Events -- Illinois State Museum, Springfield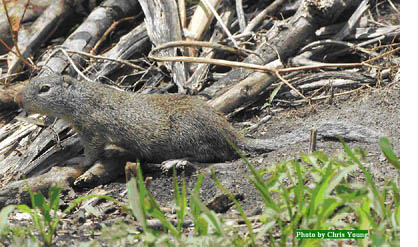 Brownbag Lectures: A Rare and Elusive Mammal: Franklin's Ground Squirrel in Central Illinois
Location: ISM Research & Collections Center, Springfield
Date: Wednesday, April 02, 2014, 12:00 PM - 1:00 PM



Presented by Tih-Fen Ting, Ph.D., Department of Environmental Studies, University of Illinois at Springfield

Distributed widely over the northern Great Plains, Franklin's ground squirrel (Poliocitellus franklinii) has a range extending from the central United States to southern Canadian Plains. However, Franklin's ground squirrel is declining in much of the central United States and is considered endangered, threatened, or a species of concern in many Midwestern states. Specifically, Franklin's ground squirrel was listed as State Threatened in Illinois in 2004. The Illinois Wildlife Action Plan lists Franklin's ground squirrel as a "species in greatest need of conservation" and the objective is to delist Franklin's ground squirrel from the state-threatened listing by 2025. Declines in Franklin's ground squirrel populations in the Midwest have been widely attributed to loss and fragmentation of tallgrass prairie habitat due to intensive agricultural practices. Although Franklin's ground squirrel is known to occur in dense grassland or prairie habitat, some consider Franklin's ground squirrel as being most frequently associated with habitat characterized by a mixture of grassy and woody vegetation, referred to as savanna-like habitat. In this talk, Dr. Ting will provide an overview of Franklin's ground squirrel's ecology as well as recent findings regarding its detection, movement, and habitat management practice based on an on-going research project in Sangamon County, Illinois.

One of our Brownbag Lectures

Weekly lectures held at the Museum's Research and Collections Center. Lectures are usually held during lunchtime on Wednesday. The RCC is located at 1011 E. Ash Street in Springfield. Access to the building is from 10 ½ Street (between Ash and Laurel Streets), where there is ample visitor parking in the west parking lot. For more information, please call 217-785-0037. Brown Bag Lectures are free and open to the public.


Also, if you want to be informed of upcoming lectures by email, you can sign up for the brownbag announcement list.

For more events at ISM Research & Collections Center.