Public Events -- Illinois State Museum, Springfield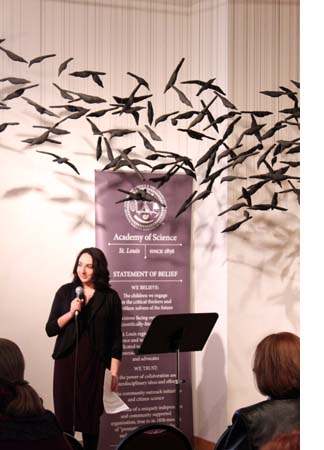 Brownbag Lectures: The Academy of Science—St. Louis: Past & Present
Location: ISM Research & Collections Center, Springfield
Date: Wednesday, March 19, 2014, 12:00 PM - 1:00 PM



Presented by Carolyn Noe, Community Science Programs Outreach & Evaluation Coordinator

Founded in 1856 by twelve physicians, a lawyer, an engineer and a businessman, The Academy of Science of St. Louis began its advancement of science in the rapidly growing town of St Louis, Missouri. Academy members started a museum collection, maintained a library, published a journal and corresponded with leading scientists of the day providing information concerning the lands that lay adjacent and to the west of St. Louis. From its rich history as a science museum (most recently at Oak Knoll Park as the Museum of Science and Natural History) to the realization of a longstanding goal by taking the lead in the development of a "well-equipped and suitable science center" for St. Louis, the Academy has always been able to focus its resources for maximum community impact.

Today, the Academy is actively involved in promoting science and increasing science literacy among students and the general public. More than 900 professional scientists have volunteered through the Academy's public lectures and outreach programs.

One of our Brownbag Lectures

Weekly lectures held at the Museum's Research and Collections Center. Lectures are usually held during lunchtime on Wednesday. The RCC is located at 1011 E. Ash Street in Springfield. Access to the building is from 10 ½ Street (between Ash and Laurel Streets), where there is ample visitor parking in the west parking lot. For more information, please call 217-785-0037. Brown Bag Lectures are free and open to the public.


Also, if you want to be informed of upcoming lectures by email, you can sign up for the brownbag announcement list.

For more events at ISM Research & Collections Center.