Public Events -- Illinois State Museum, Springfield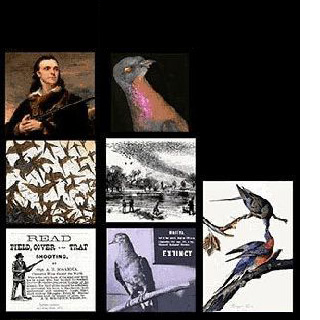 Paul Mickey Science Series: The Echoes of Their Wings: The Life and Legacy of the Passenger Pigeon
Location: ISM Research & Collections Center, Springfield
Date: Wednesday, April 09, 2014, 7:00 PM - 8:30 PM
Presented by Joel Greenberg, Research Associate at the Chicago Academy of Science's Peggy Notebaert Nature Museum and the Field Museum, Chicago, IL, and the author of A Feathered River Across the Sky: The Passenger Pigeon's Flight to Extinction.
The passenger pigeon was unlike any other bird. It probably numbered in the billions, making it the most abundant bird in North America if not the world. But this huge population was neither evenly distributed across the landscape nor was it any way concealed: the species often formed aggregations so vast they are difficult for us to imagine. As just two examples, John James Audubon described a flight in 1813 that darkened the sky for three days, and a nesting in 1871 that spread across 850 square miles of central Wisconsin. But despite that abundance, exploitation for food and recreation destroyed the species in the wild by the first few years of the 20th century. On September 1, 1914, Martha, the last of the species, died in the Cincinnati Zoo. This talk explores the story of the bird and highlights the important lessons that it presents to those of us in the 21st century.
Book Signing
Purchase your copy of A Feathered River Across the Sky, before the event at the Illinois State Museum Store. There will be a book signing immediately following the lecture. A limited number of books will also be available for purchase at the event for $26.00 (ISMS Member price $23.40) + tax.
One of our Paul Mickey Science Series
Discover Illinois' rich prehistoric and historic past by attending an ISM Paul Mickey Science Series Program. A different speaker and topic are featured each month. For more information on upcoming topics and speakers, please contact Nina Walthall at (217) 782-0061 or 217-785-0037.
Usually held the second Wednesday of Each Month
7:00 to 8:30 PM
Held at the ISM Research & Collections Center, 1011 East Ash Street (enter the building from 10 ½ Street between Ash & Laurel Streets), Springfield, Illinois

Free Admission
For more events at ISM Research & Collections Center.