Public Events -- Illinois State Museum, Springfield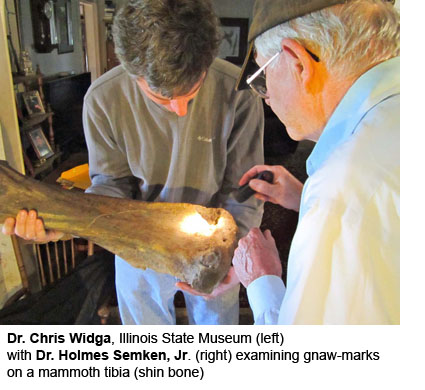 Paul Mickey Science Series: Camels, Carnivores, and Old Collections: Recent Adventures in Iowa Paleontology
Location: ISM Research & Collections Center, Springfield
Date: Wednesday, January 08, 2014, 7:00 PM - 8:30 PM
Presented by Dr. Chris Widga, Illinois State Museum Curator of Geology
The fossil record of Illinois and Iowa is forever intertwined. Beginning in the mid-1800s, when the two state geological surveys shared personnel, to the present time, when ISM paleontologists are "virtually" involved in excavations of a mammoth site near Oskaloosa, the direction of paleontological research across the region has been performed in parallel due to a shared geologic and scientific history. This presentation will highlight recent research and discoveries on both sides of the Mississippi, including: giant camels from western Iowa, two new records of large, extinct wolves, and ongoing investigations of a multi-mammoth site in Mahaska County.
One of our Paul Mickey Science Series
Discover Illinois' rich prehistoric and historic past by attending an ISM Paul Mickey Science Series Program. A different speaker and topic are featured each month. For more information on upcoming topics and speakers, please contact Nina Walthall at (217) 782-0061 or 217-785-0037.
Usually held the second Wednesday of Each Month
7:00 to 8:30 PM
Held at the ISM Research & Collections Center, 1011 East Ash Street (enter the building from 10 ½ Street between Ash & Laurel Streets), Springfield, Illinois

Free Admission
For more events at ISM Research & Collections Center.