Public Events -- Illinois State Museum, Springfield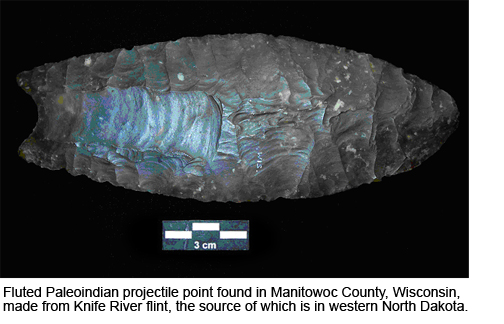 Paul Mickey Science Series: The Secret Lives of Paleoindians: Early Social and Ritual Systems in the Western Great Lakes
Location: ISM Research & Collections Center, Springfield
Date: Wednesday, December 11, 2013, 7:00 PM - 8:30 PM
Presented by Thomas J. Loebel, Ph.D., St. Xavier University, Chicago
Early Paleoindians in North America (circa 12,000 years ago) are understood as having one of the most highly stereotyped archaeological cultures. Widely viewed as nomadic hunters of elephants who did little else other than producing a remarkably similar range of fluted point styles over a vast geographic area, they have essentially remained a static archaeological concept for the last 75 years. However, hidden within the archaeological record beginning with Clovis is subtle evidence of the social and ritual life of these early hunter-gatherers. Probable examples of trade, exchange, and the movement of individuals and groups during the Clovis period can be identified by examining large-scale patterns of raw material use. These patterns also reflect social adaptations to a rapidly changing environment at the end of the last Ice Age. These early exchange networks culminated in the Renier Ceremonial Complex, a set of related sites scattered across Wisconsin and Illinois around 9,000 years ago that include the ritual destruction of large chipped-stone spear points and tools.
One of our Paul Mickey Science Series
Discover Illinois' rich prehistoric and historic past by attending an ISM Paul Mickey Science Series Program. A different speaker and topic are featured each month. For more information on upcoming topics and speakers, please contact Nina Walthall at (217) 782-0061 or 217-785-0037.
Usually held the second Wednesday of Each Month
7:00 to 8:30 PM
Held at the ISM Research & Collections Center, 1011 East Ash Street (enter the building from 10 ½ Street between Ash & Laurel Streets), Springfield, Illinois

Free Admission
For more events at ISM Research & Collections Center.