Public Events -- Illinois State Museum, Springfield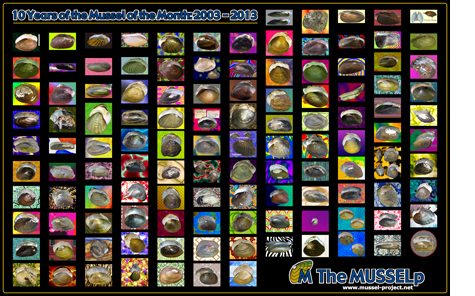 Brownbag Lectures: Global Diversity of Freshwater Mussels: The Mussel Project: 11 Years and Counting
Location: ISM Research & Collections Center, Springfield
Date: Wednesday, October 30, 2013, 12:00 PM - 1:00 PM



Presented by Kevin S. Cummings, Illinois Natural History Survey

"MAKING THE WORLD A BETTER PLACE ONE MOLLUSK AT A TIME"

The MUSSEL Project (*MUSSELp*, for short) is an on-going study aimed at
the global revision of the classification of the Unionoida, otherwise
known as freshwater mussels. The two principle investigators, Daniel L.
Graf (University of Wisconsin – Stevens Point) and Kevin S. Cummings
Illinois Natural History Survey), combine their efforts to maintain an
efficient malacological strike force equally capable of working in
remote collection localities or urban mollusk collections. Toward this
end, we are compiling an exhaustive database of all Recent unionoid
species and genera described to-date. This database will eventually
serve as the basis for a universal synthesis and revision of freshwater
mussel taxonomy. We will present some of our results to date and talk
about our efforts collecting freshwater mussels in the Congo and Zambezi
rivers of Africa and the Amazon River in Peru.

One of our Brownbag Lectures

Weekly lectures held at the Museum's Research and Collections Center. Lectures are usually held during lunchtime on Wednesday. The RCC is located at 1011 E. Ash Street in Springfield. Access to the building is from 10 ½ Street (between Ash and Laurel Streets), where there is ample visitor parking in the west parking lot. For more information, please call 217-785-0037. Brown Bag Lectures are free and open to the public.


Also, if you want to be informed of upcoming lectures by email, you can sign up for the brownbag announcement list.

For more events at ISM Research & Collections Center.