Public Events -- Illinois State Museum, Springfield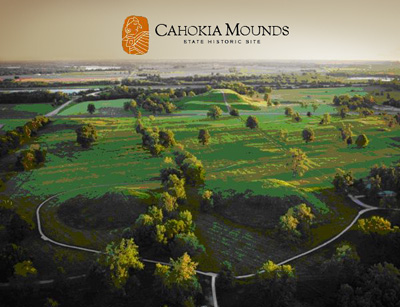 Paul Mickey Science Series: Recent Research and Preservation Efforts at Cahokia Mounds State Historic Site
Location: ISM Research & Collections Center, Springfield
Date: Wednesday, November 13, 2013, 7:00 PM - 8:30 PM
Presented by William R. Iseminger, Cahokia Mounds State Historic Site
This presentation will discuss the prehistoric site of Cahokia Mounds and a number of recent research projects that have been taking place over the last decade, including excavations on the North Palisade, Mound 34, Feature X, Tract 15-B, Rattlesnake Mound and Causeway, and various remote sensing projects across the site.
One of our Paul Mickey Science Series
Discover Illinois' rich prehistoric and historic past by attending an ISM Paul Mickey Science Series Program. A different speaker and topic are featured each month. For more information on upcoming topics and speakers, please contact Nina Walthall at (217) 782-0061 or 217-785-0037.
Usually held the second Wednesday of Each Month
7:00 to 8:30 PM
Held at the ISM Research & Collections Center, 1011 East Ash Street (enter the building from 10 ½ Street between Ash & Laurel Streets), Springfield, Illinois

Free Admission
For more events at ISM Research & Collections Center.