Press Room -- Illinois State Museum, Springfield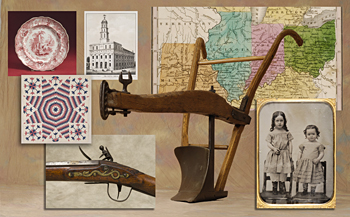 To celebrate the Abraham Lincoln Bicentennial, the Illinois State Museum premiers an original exhibition, From Humble Beginnings, Lincoln's Illinois 1830 – 1861, exploring all aspects of the state that Lincoln called home between 1830 and 1861. The exhibition opens at the Illinois State Museum in Springfield on February 6, 2009 and extends through January 10, 2010.
Lincoln's Illinois presents a captivating perspective of the Lincoln era through the objects and stories of the people who lived here. Featured in the exhibition are historical maps, artifacts, household furnishings, a rare John Deere plow, Peter Cartwright's traveling desk, rifles and pistols, artifacts from New Philadelphia and other archaeological sites, and many other objects that demonstrate the dynamic changes that helped transform Illinois from a frontier region to a powerful state.
The exhibition was developed by the Illinois State Museum, drawing on unique objects in the Museum's collections, such as the traveling desk used by Methodist circuit rider Peter Cartwright. Eighteen institutions, individuals, and corporations loaned significant objects for this exhibition, including the Chicago Historical Society (slave shackles and portraits), Deere and Company (1855 steel scouring plow), and the Abraham Lincoln Presidential Library (historical maps and photographs). Also on display for the first time are a circa 1840 Star of Bethlehem quilt and an 1853 coverlet recently donated to the Illinois State Museum.
"Lincoln's Illinois presents the social, cultural, historical, and environmental contexts of Illinois during the Lincoln era. This exhibition provides a peek into the world in which Abraham Lincoln lived. It gives us an opportunity to consider the issues and concerns of the day, and begin to understand the changes in the landscape and in Illinoisans' lives," said Angela Goebel-Bain, Illinois State Museum Curator of Decorative Arts and co-curator of the exhibition.
In 1830, like thousands of Southerners before him, Abraham Lincoln drove his team of oxen with his family to frontier Illinois in search of a better life. Thirty years later, a train carrying the sixteenth President of the United States—Abraham Lincoln—steamed out of an Illinois station. When the Lincolns first arrived, Illinois was a frontier state with a population of just 157,445. By 1861, railroads tied the state to the industrial Northeast, sparking a general expansion of industry and agriculture in Illinois and the population had grown to over 1.7 million. With improved transportation, Northeasterners and Europeans flooded the state, creating an intensely dynamic population—a microcosm of America, which Lincoln determined to represent. From Humble Beginnings: Lincoln's Illinois 1830 – 1861 reveals this dramatic transformation.
Maps of Illinois from the 1830s – 1861 illustrate how improved transportation impacted the settlement of Illinois. Ceramics, clothing, textiles, furniture, paintings, photographs, children's toys, and other objects demonstrate the vast changes in family life as Illinoisans became more prosperous and goods became less expensive. Also on display are agricultural tools and implements, rifles and pistols from the period, and artifacts from archaeological sites.
Included in the exhibition are fascinating stories about:
Pottawatomi Chief Shabbona;
The Black Hawk War;
Joseph Smith and the Mormon settlement of Nauvoo, which rivaled Chicago as the state's largest city by 1842;
Free Frank McWorter and New Philadelphia, the first town in the United States planned and legally registered by a freed African American;
The Alton Riot and death of the abolitionist newspaper publisher Elijah Lovejoy;
Individuals helping slaves on the Underground Railroad and controversies surrounding enforcement of laws related to runaway slaves;
Methodist circuit rider, Peter Cartwright, and his efforts to convert non-Christians and Yankees to Methodism;
Changes in the landscape as a result of John Deere's self-scouring steel plow that transformed agriculture and developed Deere and Company into the world's largest plow manufacturer by 1860; and
The role of women on the farm and in the home and their many contributions to family life.

A year-long suite of public programs relating to the themes of this exhibition has been planned for 2009. These include evening lectures for adults, family events with activities and entertainment, and Super Saturdays in A Place for Discovery with crafts and activities for children ages four through eight. For a schedule of programs and events, go to the Museum's Web site www.museum.state.il.us/events or call (217) 782-5993.

From Humble Beginnings: Lincoln's Illinois 1830 - 1861 is made possible in part by a grant from the Illinois Humanities Council, the National Endowment for the Humanities, and the Illinois General Assembly. The Illinois State Museum Society's 1877 Fund has also provided support for this exhibition.

The Illinois State Museum is located at 502 S. Spring Street. (corner of Spring and Edwards Streets) in Springfield, and is open 8:30 a.m. to 5:00 p.m. Monday through Saturday, noon to 5:00 p.m. Sunday. Admission is free. Parking is available nearby, and the building is ADA accessible. For information, call 217-782-7386.

Images available on request.