Press Room -- Illinois State Museum, Springfield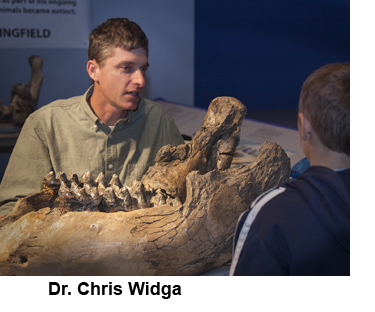 SPRINGFIELD — On Wednesday, October 16, from 9:30 a.m. to 4:30 p.m. the Illinois State Museum is celebrating National Fossil Day, with an opportunity to learn about hot science from Dr. Chris Widga, Assistant Curator of Geology. He will reveal cutting-edge research techniques that he uses to study fossils, such as 3-D scanning technology. Visitors will have the chance to view and manipulate 3-D representations of specimens from the Museum's geology collections on an interactive white board. Museum researcher Mona Colburn will show how fossil scans can be reproduced using a 3-D printer. The Illinois State Museum is one of many museums exploring how 3-D technologies can be used in research. Dr. Widga has used CT scans of fossils in paleopathology research and sophisticated studies of animal shape and size. The real draw of 3-D scans is the ability to make Museum data more available to the public. According to Dr. Widga, "The real potential lies in being able to make scans available to the public so they can see exactly what we see… and ultimately be able to print out a copy."
In addition to demonstrations, the Museum's new Hot Science Gallery will feature fossils new to the Museum's collections, including a Stag Moose antler recently discovered in Ames, Iowa; Mammoth remains from Menard and Livingston counties; and a fossilized coral reef community found in Lake Springfield. These never-before-exhibited fossils inform our understanding of what the Midwest looked like millions of years ago. Visitors will also see many internationally acclaimed fossils from the Museum's collections in the Changes exhibition and the Mary Ann MacLean Play Museum, including Illinois' State fossil—the Tully Monster.
The Museum's geology collections include over 200,000 specimens, which form the foundation for exhibitions and public programs and are studied by scholars all over the world. The Museum has an outstanding collection of plant and animal fossils from the Mazon Creek area, one of the best preserved and richest fossil assemblages in the world. The Museum's vertebrate paleontology collection includes over 50,000 specimens and is one of the best Ice Age mammal fossil collections in North America.
This is the fourth National Fossil Day celebration, organized by the National Park Service to promote public awareness and stewardship of fossils and a greater appreciation of their scientific and educational value. The Illinois State Museum is participating as part of its mission to promote discovery, learning, and an appreciation of Illinois' natural, cultural, and artistic heritage.
###
The Illinois State Museum inspires discovery and caring about Illinois' natural and cultural resources and heritage. The Museum's extensive collections and research activities provide the foundation for exhibitions and public programs that tell the story of the land, life, people, and art of Illinois. The Illinois State Museum is located at 502 S. Spring St. (on the corner of Spring and Edwards Streets) in Springfield and is open from 8:30 a.m. - 5:00 p.m. Monday through Saturday and from noon - 5:00 p.m. on Sunday. Admission is free. Parking is available nearby and the building is ADA accessible.