Public Events -- Illinois State Museum, Springfield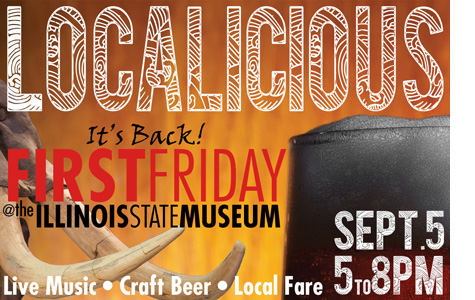 FIRST FRIDAY at the ILLINOIS STATE MUSEUM: LOCALICIOUS
Location: Illinois State Museum, Springfield, Springfield
Date: Friday, September 05, 2014, 5:00 PM - 8:00 PM



First Fridays at the Illinois State Museum are back! After a summer-long hiatus, your state museum will once again be open after hours to celebrate the unique cultural heritage of Illinois. This fall, we will be absolutely "Localicious"!

WHEN:
First Friday
September 5
5-8PM

WHAT:
LOCALICIOUS FIRST FRIDAY
FREE Admission/Parking
Food & Drink Available for Purchase

WHERE:
Illinois State Museum
502 S. Spring Street
Springfield, IL 62706

Engrained Brewing Company
Sustainable, Local, Natural… It's Engrained! More than just another restaurant, Engrained believes in sustainable operating practices, supporting local businesses and individuals, and serving natural beer and food. They are passionate about making their food, beer, and community better. Owners and brewers will be on hand speaking about their beers and processes, and answering your questions! Experience an assortment of Engrained craft beers and cleanse your palette with a farm to table hors d'oeuvre.

Johnny & the 2G's
Johnny & the 2G's are a local folk/bluegrass band composed of singer-songwriter John Brillhart, Gary Fifer (Blue G's), and Geoff Ryan (Murder Of Crowes). John writes simple songs with thoughtful lyrics, providing an ideal foundation for sonic fireworks – courtesy of his 2G's. You're sure to leave humming a new local favorite…

Dew Chilli Parlor Food Truck
The museum once again welcomes Dew Chilli Parlor's food truck to our front steps! After nearly 20 years, the Dew Chilli Parlor is back on South 5th Street. They serve the same secret recipe-tavern style chilli that 'The Dew' was once known for, and have added a variety of delicious menu items. This locally-owned business is proud to preserve local food history with a modern flair.

Illinois Artisan Poppy Vincent
Springfield native Poppy Vincent has more than 30 years of experience in custom jewelry design and creation. Her work celebrates nature. She incorporates botanical themes using elements such as insects, butterflies, vines, and leaves, intertwining them with gemstone and adding filigree to flowers. She is proud to be involved in the complete process – from wax carving to stone setting. You won't want to leave the Museum Store without one of her inspired pieces.

POUR Bar | 5:05-8PM
Shake, rattle, & POUR! Pour Bar Services provides expert bartending services for special events in Central Illinois as well as the Governor's Ballroom. Relax and enjoy a craft brew from Engrained – or any drink of your choice from this fully catered bar. Some of the best bartenders in our area are at your service!

The Illinois State Museum inspires discovery and caring about Illinois' cultural and natural resources and heritage. The Museum integrates its original research and diverse collections to advance knowledge and create thought-provoking exhibitions and educational programs and resources. These offerings engage people of all ages in their own discovery and lifelong learning about the natural and cultural heritage of Illinois and its place within the world. The Museum promotes stewardship of this heritage to improve quality of life and ensure a sustainable future.

For more events at Illinois State Museum, Springfield.