Public Events -- Illinois State Museum, Springfield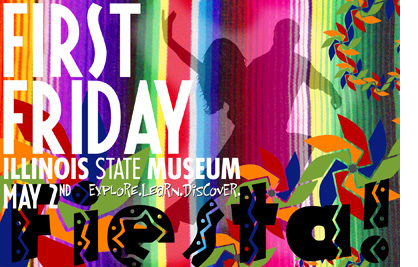 First Friday Fiesta
Location: Illinois State Museum, Springfield, Springfield
Date: Friday, May 02, 2014, 5:00 PM - 8:00 PM



Feel like there's nowhere to DANCE when you get off work? Join us for a Latin-themed First Friday at the Illinois State Museum! Relax and rejuvenate with salsa instruction, Mexican American cuisine, Latin jazz, bright and bold artisan pottery, cold margaritas, and an entire museum for you to explore and discover – after hours!

Salsa Instructor Apollo Shaw with Latin DJ | 5:30-6:30PM
Get moving! Apollo Shaw is a Dance Instructor and Choreographer with The Shaw Dance Company and the Peoria Ballet Academy. His dancing background includes Cuban, L.A., Mambo, and PR Style Salsa, Bachata, Merengue, Cha Cha, Cumbia, and Kizomba. He is the 2013 Winner of Casablanca DWTLS, and was featured in the March/April 2013 edition of Arts & Society Magazine. His will introduce you to the passion and excitement of Latin dancing. So don't worry about how you look – just have fun!

Craig Russo Latin Jazz Project | 6:30-8PM
The best of both worlds when Latin meets jazz! The Craig Russo Latin Jazz Project will be the star of our pop-up "Oak Tree Café" in the Changes exhibit. The band is a fresh mix of outstanding jazz soloists, rich, Afro-Cuban inspired rhythms, and unique arrangements of jazz standards.

Clay Lick Creek Pottery | 5-8PM
The Museum Store will be open late to satisfy your shopping needs! Featured will be the work of Karen Fiorino, Illinois Artisan and owner of Clay Lick Creek Pottery. Karen creates fun and functional red earthenware pottery. She wheel throws and hand builds various forms into a vast array of colorful and whimsical work. The pieces boast a glossy, smooth non-toxic Maiolica glaze suitable for food or display.

Chadito's Food Truck | 5-8PM
Satisfy your taste buds with a savory Mexican American dish. Enjoy sanchos, tacos, nachos, taco salads, fried pickles, and amazing fish tacos!

POUR Bar | 5:05-8PM
Pour Bar Services provides expert bartending services for special events in Central Illinois. Relax and enjoy a specialty margarita or anything else from this fully catered bar. Some of the best bartenders in our area are at your service!

Free Admission/Parking

"CASH BAR & FOOD TRUCK"

For more information contact Jennifer Snopko at 217-782-5949.

The Illinois State Museum inspires discovery and caring about Illinois' cultural and natural resources and heritage. The Museum integrates its original research and diverse collections to advance knowledge and create thought-provoking exhibitions and educational programs and resources. These offerings engage people of all ages in their own discovery and lifelong learning about the natural and cultural heritage of Illinois and its place within the world. The Museum promotes stewardship of this heritage to improve quality of life and ensure a sustainable future.

For more events at Illinois State Museum, Springfield.