Public Events -- Illinois State Museum, Springfield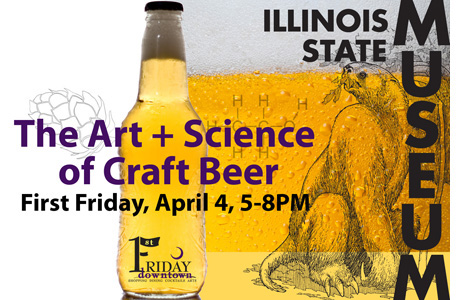 First Friday Event: Art + Science of Craft Beer
Location: Illinois State Museum, Springfield, Springfield
Date: Friday, April 04, 2014, 5:00 PM - 8:00 PM



Art + Science of Craft Beer
TGIF! Indulge your taste buds and your mind First Friday, April 4 at the Illinois State Museum as we explore the art and science of craft beer – and drink – in Illinois. Get to know local brewers from Rolling Meadows Brewery and learn about their locally sourced hops, why their close-to-home water source is so important to their beer, and other amazing insights into the craft of brewing! Discover what happens when beer label art meets regulation. Investigate hand blown beer tap handles and hand thrown beer mugs. Want to learn about the history of libations in Illinois? Explore The Art + Science of Drink in the Changes exhibition. And, of course, don't forget to try the beer – and specialty beer cocktails!

Rolling Meadows Brewery
Rolling Meadows Brewery started when Caren Trudeau and Connie Regan discovered wild hops on the Trudeau family farm in Cantrall, IL. What began as an experiment in brewing has grown into an appreciation of good beer and a desire to create a fine product utilizing the abundance of natural resources on the farm. When Caren Trudeau and her son, Chris Trudeau established the brewery in 2011, they drew upon their combined experiences of home brewing, craftsmanship and design detail to create the Rolling Meadows brand. Together with Connie and Dustin Regan and the help of Seth Koerner, they have been crafting Rolling Meadows' signature beers- Lincoln's Lager, Springfield Wheat and Abe's Ale- and bringing them to the Springfield area.

The Art + Science of Drink
The Hot Science Gallery in the Changes exhibition will exhibit the The Art + Science of Drink from April 4 to May 31. On First Friday, curators and scientists from the museum will be on hand to discuss the exhibit and answer any questions visitors may have. The displays will include vintage beer bottles (some from Springfield's old Reisch Brewery discovered in the New Philadelphia anthropological site), holly and hops from our botany collection, ornate beer mugs and artworks from our fine and decorative arts collection, Mississippian style pottery from Cahokia mounds from which the "Black Drink" was consumed, and much more. Illinois has a rich history of drink!

Music by Lowder
Josie Lowder fronts this outstanding band of musicians that will rock your night. At 6:30PM, Lowder takes the stage with its folk, jazz, and blues-inspired powerful performances. Stick around and take the night up a notch.

Dew Chilli Truck
Bringing back the Dew Chilli Parlor! After a short 20 year hiatus, one of the country's oldest Chilli Parlors has come back to the Chilli Capital of the World via food truck. From Route 66 travelers and worldwide chilli connoisseurs, to local families, they can't wait to welcome you. The truck will be parked conveniently on Spring at the front steps of the museum!

Illinois Artisan Bruce Kitts
Take home something special for yourself or someone else from the Museum Store! Bruce Kitts, a potter who likes to let the clay speak for itself, creates raw and unique artisan beer mugs. He leaves parts unglazed, over slips attachments, exposes ripped edges, and leaves marks on the surface of every piece. A home brewer himself, he is excited to share his artisan craft with other beer lovers.

FREE Admission/Parking. Food & Drink Available for Purchase. For more information contact Jennifer Snopko at jsnopko@museum.state.il.us or 217-782-5949.

The Illinois State Museum inspires discovery and caring about Illinois' cultural and natural resources and heritage. The Museum integrates its original research and diverse collections to advance knowledge and create thought-provoking exhibitions and educational programs and resources. These offerings engage people of all ages in their own discovery and lifelong learning about the natural and cultural heritage of Illinois and its place within the world. The Museum promotes stewardship of this heritage to improve quality of life and ensure a sustainable future.

For more events at Illinois State Museum, Springfield.