Press Room -- ISM Lockport Gallery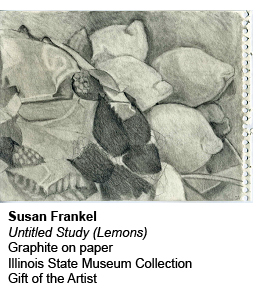 Contact: John Lustig, Director

Jennifer Jaskowiak, Curator

201 West 10th Street

Lockport, IL 60441

Tel: (815) 838-7400

info-lockport@museum.state.il.us
SKETCHING STILL LIFE WORKSHOP AT ISM LOCKPORT GALLERY
LOCKPORT, IL— So how did the artist plan and render that still life? Bring your sketchpad and graphite sticks to the Illinois State Museum Lockport Gallery on Sunday, March 2, 2014, and try your hand in our Sketching Still Life workshop from 2:00 to 3:00pm. This "How'd they do that?" workshop will be led by artist Susan Frankel, whose composition and preliminary sketches are on display in the current exhibition sketches, journals, preparations. . . Everything in Place. This event requires pre-registration as seating is limited. Participants should plan to bring their own sketchpad and drawing instruments and arrive early for a prompt start at 2:00 pm. Admission to the museum and workshop is free.
For much of her career, Susan Frankel has focused on "still life" which is an artwork depicting mostly inanimate and commonplace objects, often arranged by the artist. This form of art suits Frankel's intense observation of the objects, patterns and colors surrounding her. During the workshop, Frankel will offer guidance for getting started with your own composition and tips to help participants as they sketch their work. Participants should bring their own sketchbooks and drawing tools (Frankel suggest graphite sticks, color pencil stick, pastel and chamois or craypas, charcoal sticks---not pencils.) To register for the workshop, please call the Museum at 815-838-7400. Susan Frankel is a Chicago-based artist whose work has been widely exhibited. She has taught painting and sketching at the School of the Art Institute of Chicago and at Elmhurst College.
Everything in Place focuses on the preparatory materials kept "at hand" that both inspire and document the creative process. Rarely seen outside of the studio or field, these preparations record all stages of the creative process, from the spark of an idea through the proposal of a final project. Likewise, they offer a glimpse of what is happening in the personal life of the maker, their insights and responses to the world around them. The exhibition includes the work of 29 artists. Also included are archaeological sketch maps from the late 19th century and the mid-20th century, plus species identification drawings. The exhibition continues through April 13, 2014.
The Illinois State Museum Lockport Gallery is located on the first floor of the historic Norton Building at 201 West 10th Street in Lockport, Illinois, and is fully accessible to all physically challenged individuals. Museum hours are noon to 5:00 pm on Sunday, 9:00 am to 5:00 pm, Monday through Friday. Museum is closed Saturdays and State Holidays. Admission is free. For information on exhibitions and related programs, becoming a member of the Friends of the Lockport Gallery, directions, or to schedule a group tour of ten or more, please visit the museum online at http://www.museum.state.il.us/ismsites/lockport/ or call (815) 838-7400. The Illinois State Museum Lockport Gallery is part of the Illinois State Museum system, including sites in Springfield, Rend Lake, Chicago, and Lewistown.