Press Room -- ISM Lockport Gallery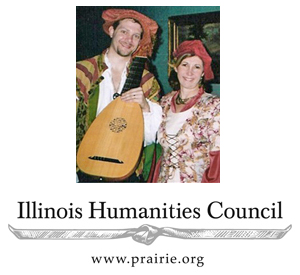 LOCKPORT, IL— What really happens after Sleeping Beauty is awakened by the Prince's kiss? What brutal fate awaits greedy relatives? Find out as the Illinois State Museum Lockport Gallery presents "Grimm's Grimmest: The Darker Side of Fairy Tales" on Sunday, September 30, from 2:00 to 3:00 pm. Professional storyteller Judith Heineman and musician Daniel Marcotte offer a chilling dramatic performance of several Grimm tales, some set to music, as they were originally intended for adults. This ISMLG program—part of our continuing "Sunday Series"—is free and open to the public though the stories are recommended for ages 10 and up. Reservations are not required; seating is limited. "Grimm's Grimmest" is the final program offered during the exhibition Focus 4: Four Solo Exhibitions on view thru October 4, 2012.

"Grimm's Grimmest: The Darker Side of Fairy Tales" is a performance by Judith Heineman and Daniel Marcotte that includes the story of Briar Rose (Sleeping Beauty), "The Juniper Tree," "Bearskin," and more. Marcotte has set two stories to 16th century ballads and plays them on a Renaissance lute and other instruments. Marcotte also created original "Bloody Choruses" for the stories told by Heineman, and the audience is invited to join in. Judith Heineman is professional storyteller, producer and teacher; she holds an MA in English and is the founder of the Chicago Storytelling Guild. Daniel Marcotte specializes in Renaissance and Medieval music and instruments, including the lute, the gittern, tin whistle, and Irish bodhran (drum); he holds a Bachelor of Music in Voice Performance and a Master's in Renaissance and Medieval Music. Their CD, Grimm's Grimmest: The Darker Side of Fairy Tales has won the National Parenting Honors Award (2010) and the Parent's Choice Gold Award (2011, Storytelling), among others.

This performance of "Grimm's Grimmest: The Darker Side of Fairy Tales" is made possible in part by an award from the Illinois Humanities Council, the National Endowment for the Humanities, and the Illinois General Assembly.

Grimm's Fairy Tales are German folk tales gathered and published by brothers Jacob and Wilhelm Grimm in the early 1800s. Though referred to as "children's tales," they were not suitable for children and were highly criticized. Over time, the original stories were rewritten and softened, focusing on the "moral," and have had a wide influence on children's literature and cinema, such as in the Disney versions of Snow White, Cinderella, and Sleeping Beauty.

Focus 4: Four Solo Exhibitions (thru October 4th) features the work of four Illinois artists: Steven Robnett, Don Seiden, Mario Trejo, and Rebecca Wolfram. Elgin artist Robnett narrates the human experience from multiple perspectives in tightly rendered paintings and compositions of charcoal, pastel, and colored pencil. Seiden—Chicago-based painter, sculptor, and art therapist—explores life, art, and the creative process utilizing mixed media. Southern Illinois artist Trejo combines rigorous processes and acute attention to detail in compositions that resonate between calm fluidity and struggling chaos. Chicago-based painter Wolfram delves into the effects of culture, custom, and tradition as they reflect and shape social behavior and society.

The Illinois State Museum Lockport Gallery is located on the first floor of the historic Norton Building at 201 West 10th Street in Lockport, Illinois, and is fully accessible to all physically challenged individuals. Museum hours: Sunday, noon to 5:00 pm, Monday thru Thursday, 9:00 am until 5:00, closed Fridays, Saturdays and State Holidays. Admission is free. For information on exhibitions and related programs, becoming a member, directions to the museum, or to schedule a group tour of ten or more, please contact museum staff at (815) 838-7400 or visit the museum online at http://www.museum.state.il.us/ismsites/lockport/. The Illinois State Museum Lockport Gallery is part of the Illinois State Museum system, including sites in Springfield, Rend Lake, Chicago, and Lewistown.