Press Room -- ISM Lockport Gallery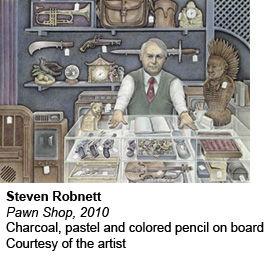 LOCKPORT—Everyone is invited to attend a special occasion Sunday, May 6, 2012, as the ISM Lockport Gallery launches a year of celebration with our Silver Jubilee Open House from 1:00 to 5:00 pm. This free event marks the start of a year of 25 events in honor of the ISM Lockport Gallery's 25th anniversary. Afternoon highlights include family activities, door prizes, refreshments, balloons for the kids, and a Gallery "Walk and Talk" at 2:00 pm.

On May 6 we also celebrate our local government's recognition of ISMLG's milestone year. On the evening of April 18, 2012, the Lockport City Council passed a resolution declaring May 3rd as "Illinois State Museum Lockport Gallery Day" in recognition of the Museum's twenty-five years of exhibitions and programs which share the art and visual culture of Illinois, past and present, with visitors from across the street, across the state and across the nation.

ISMLG is a branch site of the Illinois State Museum in Springfield under the Department of Natural Resources. The Lockport facility first opened its doors in the Gaylord Building on May 3, 1987; then reopened in its present, larger location in the Norton Building in January 2001. ISMLG is the only facility in the region to focus on the visual culture of Illinois. In its 25-year history, the museum has presented over 100 exhibitions including works by hundreds of Illinois artists. Always free, the museum presents ancillary programs that further explore exhibition topics, give opportunities to meet artists, or reveal tips about art appreciation. ISMLG offers interactive, interdisciplinary tours for school groups and tours for adult groups at no cost, and our activities often extend beyond our walls through outreach activities.

Sunday, May 6 is also the first day to view our new exhibition Focus 4: Four Solo Exhibitions featuring the work of four Illinois artists: Steven Robnett, Don Seiden, Mario Trejo, and Rebecca Wolfram. Elgin artist Robnett narrates the human experience from multiple perspectives in tightly rendered paintings and compositions of charcoal, pastel, and colored pencil. Seiden—Chicago-based painter, sculptor, and art therapist with more than 50 years experience—explores life, art, and the creative process utilizing mixed media. Southern Illinois artist Trejo combines rigorous processes and acute attention to detail in compositions that resonate between calm fluidity and struggling chaos. Chicago-based painter Wolfram delves into the effects of culture, custom, and tradition as they reflect and shape social behavior and society.

Four separate, one-hour informal presentations on the artists led by the individual curators will be held during the course of the exhibition: Focus On Don Seiden by Jane Stevens, ISM Chicago Gallery Curator (June 3); Focus On Steven Robnett by ISMLG Director Jim Zimmer (July 15); Focus On Rebecca Wolfram by ISMLG Curator Jennifer Jaskowiak (August 19); Focus On Mario Trejo by Robert Sill, ISM Assistant Director of Art (September 9). Later, be prepared for a chilling dramatic performance of Grimm's fairy tales—some set to music and as they were originally intended for adults—by professional storyteller Judith Heineman and musician Daniel Marcotte (September 30). Presentations are free and open to the public.

The Illinois State Museum Lockport Gallery is located on the first floor of the historic Norton Building at 201 West 10th Street in Lockport, Illinois, and is fully accessible to all physically challenged individuals. Museum hours are noon until 5:00 pm on Sunday and 9:00 am until 5:00 pm, Monday through Friday. The Museum is closed Saturdays and State Holidays. Admission is free. For information on exhibitions and related programs, becoming a member of the Friends of the Lockport Gallery, directions to the museum, or to schedule a group tour of ten or more, please contact museum staff at (815) 838-7400 or at http://www.museum.state.il.us/ismsites/lockport/. The Illinois State Museum Lockport Gallery is part of the Illinois State Museum system, including sites in Springfield, Rend Lake, Chicago, and Lewistown.