Public Events -- ISM Lockport Gallery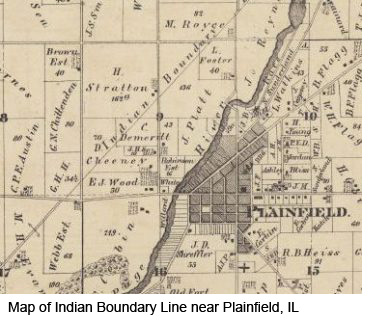 Before there was the I&M Canal, there was a Plan—The 1816 Indian Boundary Line of Northern Illinois
Location: ISM Lockport Gallery, Lockport
Date: Sunday, April 06, 2014, 2:00 PM - 3:00 PM



Presented by Margaret (Peg) M. Kapustiak. Sponsored by the Illinois & Michigan Canal National Heritage Corridor Speakers Bureau.

Illinois became a State in 1818, but two years before, in 1816, an Indian Treaty was negotiated by Wm. Clark of the Lewis and Clark Louisiana Purchase fame. It set aside land to build what later became the Illinois & Michigan Canal. These two boundary lines are still visible in Chicago and in Cook, Will, Kendall and DuPage Counties. And they, surprisingly, still impact you on the roads of northern Illinois. Peg Kapustiak's family has lived in the area in 1832. For over 30 years she has researched the geology, geography, historical context and family history of the I&M corridor. This event is part of our free Sunday Series for the exhibition sketches, journals, preparations. . . Everything in Place. Admission is free. RSVP to 815.838.7400; seating is limited.

CLICK to Press Release for more information.

For more events at ISM Lockport Gallery.