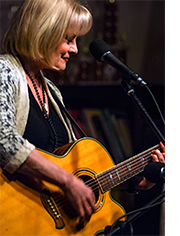 Hickory Ridge Concert Series: Claudia Nygaard to Perform
Location: ISM Dickson Mounds Museum, Lewistown
Date: Saturday, June 21, 2014, 7:30 PM - 9:30 PM



New to the Hickory Ridge Concert Series is Claudia Nygaard who will be performing on Saturday, June 21, 2014, beginning at 7:30 p.m. at Dickson Mounds Museum, Lewistown, Illinois.

Claudia Nygaard's captivating storytelling overflows from her songwriting into her live performance. With a voice like amber honey, and a twinkle in her eye that makes the entire audience feel she is sharing a secret with them alone, she takes them on an emotionally fearless journey with stories that expose a rare vulnerability and tenderness one moment, then a quick wit and an outlandish, irreverent sense of humor the next. Her songs move from heartfelt to humorous and from scrappy to sensual, and all the while the stories she tells in between them are as entertaining as the songs themselves.

A former Nashville Music Row staff songwriter and a winner of the Kerrville, TX Folk Festival songwriting competition, Nygaard has learned her craft well. Her latest CD "Let The Storm Roll In" rose to the coveted #1 position on the Roots Country Chart and #8 on the Folk DJ Chart - with every one of her self-penned compositions receiving airplay. The album received glowing reviews from the press that included five stars from Americana benchmark "Maverick" magazine.

One of our Hickory Ridge Concert Series

For more events at ISM Dickson Mounds Museum.


There are more events
scheduled, use the calendar
to check next month