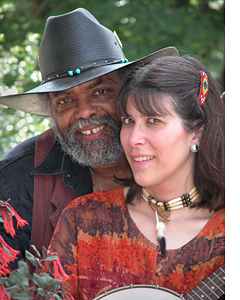 Hickory Ridge Concert Series: Sparky and Rhonda Rucker return to Hickory Ridge
Location: ISM Dickson Mounds Museum, Lewistown
Date: Saturday, May 17, 2014, 7:30 PM - 9:30 PM



Historical folk musicians Sparky and Rhonda Rucker bring the songs of the American struggle for democracy to life in their performances. They weave their music into captivating stories that span over three centuries of African-American history, including slavery, the Underground Railroad, the Civil War, the westward migration, the birth of blues music, and the civil rights Movement.

Sparky Rucker has been singing songs and telling stories from the American tradition for over forty years. He grew up in Knoxville, Tennessee and began playing guitar at age eleven. Sparky accompanies himself on guitar, banjo, and spoons, and has released twelve recordings. He was active in the Civil Rights Movement, playing freedom songs at rallies, marches, and sit-ins, alongside other folksingers such as Guy Carawan and Pete Seeger. Rhonda Rucker is also a versatile performer, playing blues harmonica, piano, banjo, and adding vocal harmonies. Their 1991 release, Treasures and Tears, was nominated for the W.C. Handy Award for Best Traditional Recording.

One of our Hickory Ridge Concert Series

The Hickory Ridge Concert Series is supported in part by a grant from the Two River's Arts Council, the Illinois Arts Council, a state agency, and the National Endowment for the Arts.

The Hickory Ridge Concert Series is hosted by singer-songwriter Chris Vallillo. Concerts are held the 3rd Saturday of every month at Dickson Mounds Museum and begin at 7:00 p.m. with the museum lobby opening at 6:00 p.m. Coffee, drinks, and a variety of desserts are available during intermission. There is an admission charge of $8.00 per adult and $5.00 for children under 12. Sitting is limited to the first 150 people. You can also visit the concert series web site at http://ginridge.com/hickory-ridge-concert-series/

For more events at ISM Dickson Mounds Museum.