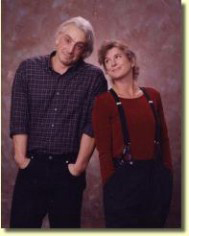 Hickory Ridge Concert Series: Small Potatoes
Location: ISM Dickson Mounds Museum, Lewistown
Date: Saturday, April 19, 2014, 7:30 PM - 9:30 PM



Award winning folk duo Small Potatoes is known for their outstanding talents as performers, songwriters and instrumentalists. Small Potatoes have entertained at the biggest festivals in the country with their amazing mix of musical styles they describe as "from Celtic to Cowboy".

Small Potatoes is Jacquie Manning and Rich Prezioso, two great voices, some fine guitar playing, and a touch of tin whistle, flute, mandolin, bodhran, and other percussion toys. Together they present a truly rare blend of vocal and instrumental abilities, award-winning songwriting, and arranging talents whether playing an upbeat cowboy swing tune or a tender, traditional ballad. They also pay attention to the little things, the warmth, the humor and a rapport with the audience that makes for a memorable performance. They are also usually late for soundcheck but worth the trouble!

One of our Hickory Ridge Concert Series

For more events at ISM Dickson Mounds Museum.


There are more events
scheduled, use the calendar
to check next month