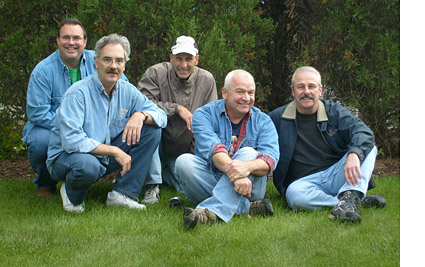 Hickory Ridge Concert Series: 60s Folk Music at Hickory Ridge
Location: ISM Dickson Mounds Museum, Lewistown
Date: Saturday, January 18, 2014, 7:30 PM - 9:30 PM



The folk group Compass will return to the Hickory Ridge Concert series on Saturday, January 18, 2014 at 7:30 pm. Compass is comprised of five men in search of a direction (we all know that men never ask for directions!). COMPASS delivers a virtual folk festival with tunes from "the folk scare of the 60s", traditional folk songs, a cappella sea shanties, as well as a wealth of original material.

Jerry Thiel, Dave Borton, Chuck VanderVennet, D. Lee and Tom Bradfish, all members of The Lake County Folk Club, formed this quintet from a mutual desire to unleash their passion for American folk music from the 60's and 70's. Literally coming from different musical directions, the members of COMPASS are united by the diversity of their influences.

This is high energy acoustic folk music fueled by strong vocal 4-part harmonies and creative instrumentation (guitar, bass, Irish bouzouki and whistles, mandolin, tenor banjo, harmonica and assorted percussion) - music that will take you to new places and directions.

One of our Hickory Ridge Concert Series

The Hickory Ridge Concert Series is supported in part by a grant from the Two River's Arts Council, the Illinois Arts Council, a state agency, and the National Endowment for the Arts.

The Hickory Ridge Concert Series is hosted by singer-songwriter Chris Vallillo. Concerts are held the 3rd Saturday of every month at Dickson Mounds Museum and begin at 7:00 p.m. with the museum lobby opening at 6:00 p.m. Coffee, drinks, and a variety of desserts are available during intermission. There is an admission charge of $8.00 per adult and $5.00 for children under 12. Sitting is limited to the first 150 people. You can also visit the concert series web site at http://ginridge.com/hickory-ridge-concert-series/

For more events at ISM Dickson Mounds Museum.